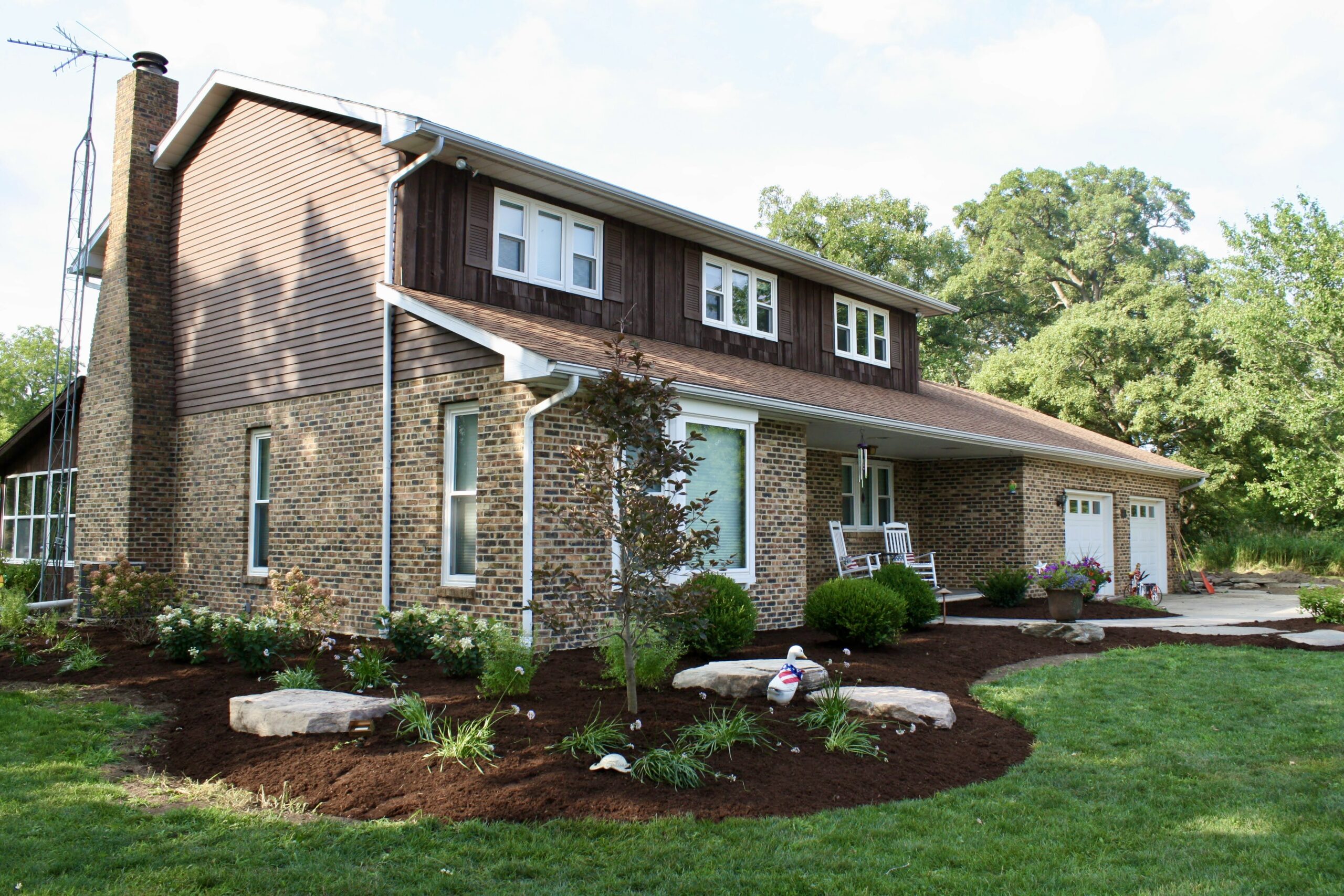 This has been an exciting year for Landscape Creations. In case you missed it, we recently announced the expansion of our service area to Bureau and Putnam Counties. You can expect the same high level of residential landscape design that we have established over the years while servicing DuPage County in our new west central Illinois service area, which includes the communities of Buda, Princeton, and Lake Thunderbird.
Our latest case study highlights the landscape design solutions and corrections that we've recently completed to a residence in Buda. This project involved creating a positive slope away from the residence for improved drainage, the installation of drain tiles to direct water away from the foundation, the addition of a brick walkway, the planting of native ornamental trees, and the incorporation of low voltage uplighting and downlighting.
Landscape Design Challenges
Learn about the main challenges we faced with this landscape design in Buda, IL and how we resolved those challenges. If you are facing similar challenges with a residential landscape design project, contact us at (630) 932-8966 for an estimate.
How to resolve the deterioration of face brick and mortar caused by moisture.
Solution for drainage issues caused by a negative grade that sloped toward the house.
How to correct the settling concrete at the entry walkway to the residence.
Design solutions for dated landscaping. This included 40- to 45-year-old shrubs, lava rock, orange-dyed mulch, and poor soil conditions.
No walk or pathway to connect to the front driveway or to the backyard (design solution for a new walkway).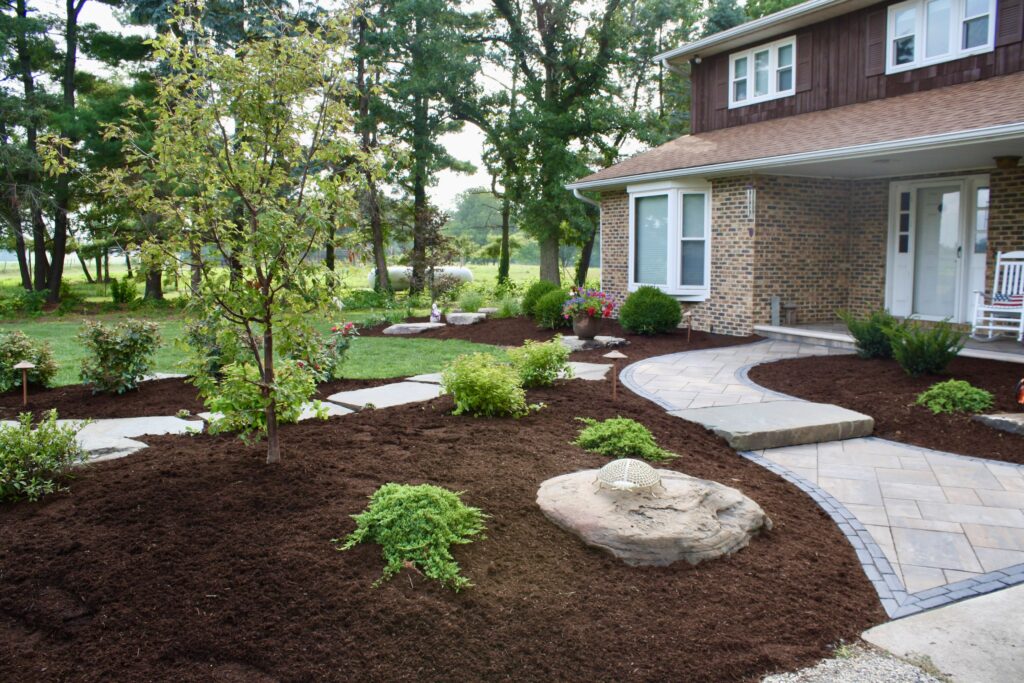 Landscape Solutions in West Central Illinois
As we created a strategy and associated solutions, we knew the first step would be to create positive surface drainage away from the foundation of the home. This is a critical step since water in the soil around a home puts pressure on the foundation that can cause cracks, leaks, and structural damage. From there, we addressed the settling concrete at the entry walkway, and updated the landscaping with ornamental trees as well as low voltage lighting.
To remedy the drainage issue, we tuckpointed face brick and added a dimpled plastic membrane with flashing to protect the face brick (providing airspace for moisture). We also backfilled and elevated the grade with a soil/garden mix to achieve a positive slope away from the residence. Then, we installed drain tiles to direct roof downspout water away from the foundation of the home.
We removed an old settled concrete walkway and replaced it with a brick walkway and beautiful stone step. We also covered the concrete porch with brick to match the walkway. The products we used were as follows: Unilock Bristol Valley Pavers with Copthorne Border; Unilock Ledgestone Copings for the porch and Pennsylvania Bluestone Step.
Updated the landscaping with Paperbark maple, Emperor Japanese maple (dark red foliage that turns bright red during the fall and leaves bud later in spring protecting it from frost), and purple beech as ornamental tree focal points (the purple/green foliage turns copper-colored in fall). We used green gem boxwood and Tautoni yew as foundation plantings, then added garden juniper, cherry blossom deutzia, a variety of hydrangea, Juddi viburnum, ornamental grasses, phlox, and spirea.
Incorporated the hen and chicks as stone plantings, then integrated native perennials such as Hosta, ornamental onion, coralbells, and geranium. In addition, we incorporated the fieldstone outcroppings and bluestone to add character and interest throughout the landscape (including the installation of irregular shaped full color bluestone as garden pathways at front and side yards).
To bring the landscape to life in the evenings, we added low voltage lighting. This includes path lights, garden lights, up lights, and moon lighting with downlights (lighting sourced by CAST, Source Lighting and Escort Lighting).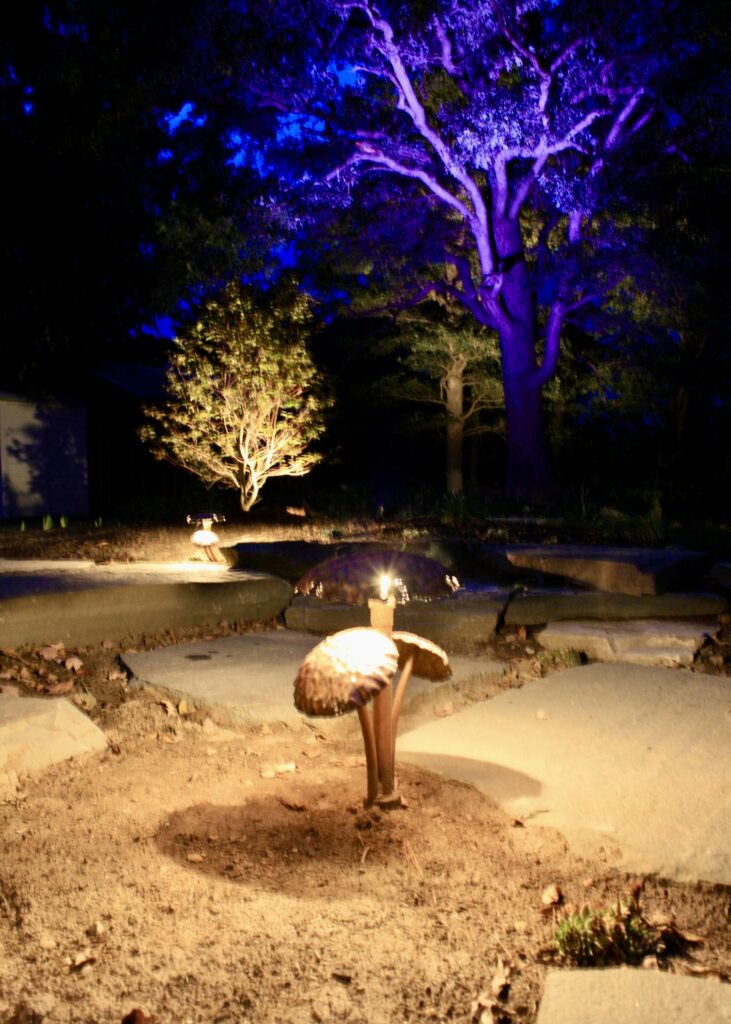 Now that you know about the landscape design challenges that we resolved while working on this Buda, IL project, contact us. We can help you turn your ordinary yard into a beautiful outdoor paradise.