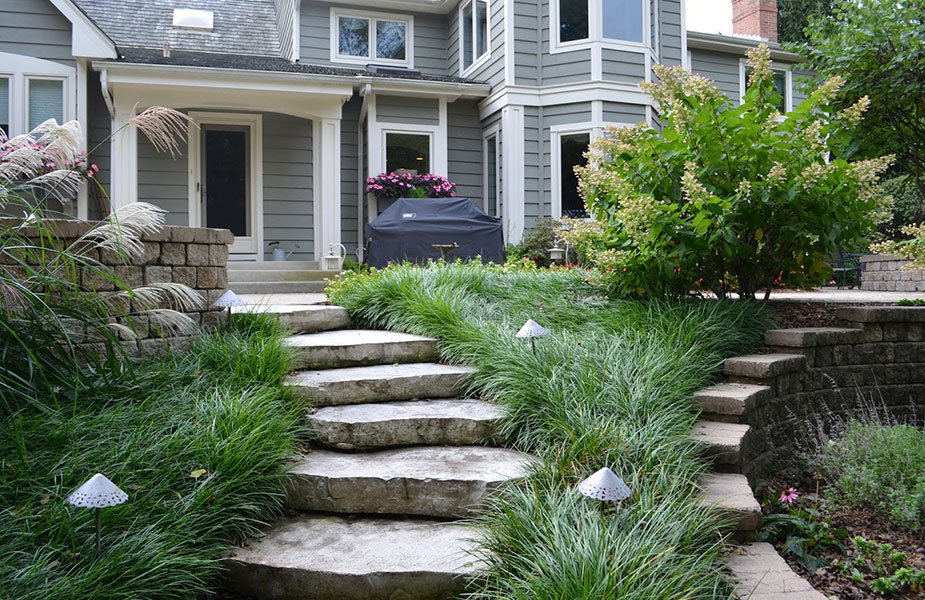 A striking landscape utilizes five basic principles of form, texture, line, color and balance.
The perfect blending of these elements is aesthetically pleasing and brings unity to an outdoor space.
One of the simplest ways to achieve this harmony is by assimilating stone into a project.
The incomparable team at Landscape Creations has become renowned for their work in Chicago's suburbs and specialize in considerations regarding landscaping with stone. There is such a vast selection of products available in all different shapes, sizes, and eye-pleasing colors to enhance virtually every facet of an open-air retreat.
We will work alongside you and be your guide as to how and what stone components would be perfect for your individual needs. Natural, quarried or fabricated materials could be used in a variety of ways – from small pathways, large retaining walls, terraces, patios, pool decks, porches and benches – the options are endless!
Integrating stone into a project will increase overall property value while providing curb appeal and that long-lasting beauty you desire. Landscape Creations is available to help you realize the outside haven of your dreams.
Custom Stonescaping
Every design is created by expanding on and developing both hardscape and softscape features. Hardscape, or non-living objects, are those within an external setting that are crafted from non-living materials. These include walkways, gravel paths, fountains, and structural accents. Softscape living organic matter, such as plants, flowers or trees tend to grow and evolve over time if properly maintained. Once combined, components provide structure, function and interest to an exterior area.
Here are a few examples of popular projects using stone:
Stone Patios are usually one of the easiest, most affordable home improvements you can undertake. Patios could be added to almost any outside location, from small square footage to large-scale estates, they are functional, durable and visually pleasing.
Stone Walls or Retaining Walls are often selected for a landscape design to fulfill multiple purposes. Combined with their obvious allure, walls can act as a soil barrier, double as a bench or become framework for the whole traffic pathway in a yard.
Stone Kitchens add immediate beauty to a home and bring the culinary parts of an interior kitchen to your outside space.
Unilock® now carries natural quarried stone products in addition to their product lines that are created to look like real stone. We are a Unilock® authorized contractor and encourage our clients to consider these stellar products. We also offer Unilock® Elements – these are pre-fabricated and include fireplaces, grill islands, water assemblies and brick ovens. They are meant to complement and blend with each other, providing that cohesive look and feel to your outdoor retreat.
When planning a design there are many factors that make the difference between a successful or unfortunate outcome. Climate, along with existing surroundings like slopes, drainage, utilities, and structures can have a substantial impact on the how, what, where and why of a project. Prevailing topographies do matter when building hardscapes or adding softscapes. So whatever landscaping concepts you envision, we make sure those choices mix well with the nearby surroundings and are best suited for their intended use.
If you're planning a beautification using stone, please check out our portfolio to see some recent projects and as a springboard for ideas. To further explore your customized landscape hardscaping ideas, contact us today at (630) 932-8966. We are a member of the Chicago area Better Business Bureau and carry an A+ rating. Read about our awards and customer testimonials.