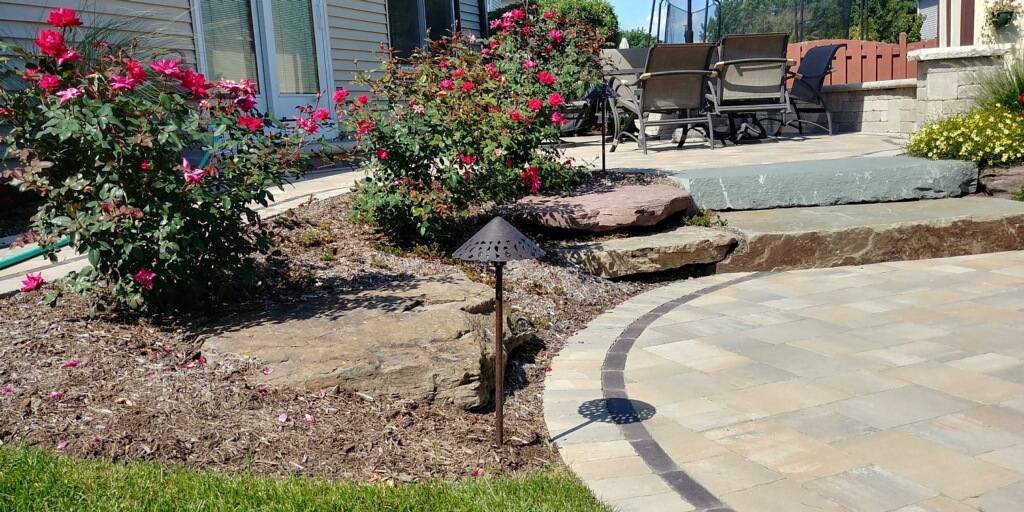 When considering perennials to incorporate into your landscaping, few create the stunning impact that roses do. Most roses are either shrubs, ramblers, or climbers. This means that thoughtful placement can make a world of difference when it comes to visual appeal.
Climbing roses on a brick wall or trellis. Roses can add seasonal color and vertical interest to your backyard. If you can train scented blooms to grow up high, you'll be able to open up your windows to capture the fragrance.
Roses in portable container gardens can be a perfect way to add vertical dimension to your landscaping — just make sure you maintain the soil in the pots so that it stays packed with the right nutrients.
Try incorporating geometric rose beds surround a centerpiece. Or, line your rose beds with hedges to give your garden a beautifully sculptured quality.
Create depth by planting different varieties of roses in the same area. For example, tea roses in the foreground and climbing roses on back fencing or a trellis.
Use roses to line a driveway, walkway, or fence. Incorporate bold colored roses, in deep red shades, to create curb appeal and welcome your guests.
Roses are ideal for transforming a small patio into a private backyard oasis. Create the atmosphere for weekend afternoon tea or evening cocktails.
Add impact to a border with roses. In addition to the gorgeous blooms (and sometimes repeat blooming), roses vary in height, which makes them perfect for use in the front, the middle, or back of a border. For a great selection of dependable shrub roses, check out "Knock Out" and "Oso Easy" roses. 
Cover an arbor with climbing roses to add structure and style. Remember that not all roses grow well in certain regions, so ask your landscape designer to help you select the best plants for your area.
Use groundcover or carpet roses for beautiful poolside, curbside, and accent wall views.
Incorporate roses in a border garden with other perennials, and keep in mind that tall plants with spires will complement wide rose blooms. Look for perennials with silver, purple or pale green leaves such as Silvermound, Dianthus, Coreopsis, Coral Bells, Astilbe, Delphinium, Sedum, Geranium. You can also mix in ornamental grasses like Blue Fescue, Morning Light Japanese Silver Grass, Blue or Red Switchgrass, Variegated Japanese Silvergrass, Fountain Grass.
If you are looking for professional landscape design services or landscaping ideas for your home, contact us for a free no-obligation estimate. We cover Lombard, Naperville, Wheaton, and other communities in the DuPage County area.