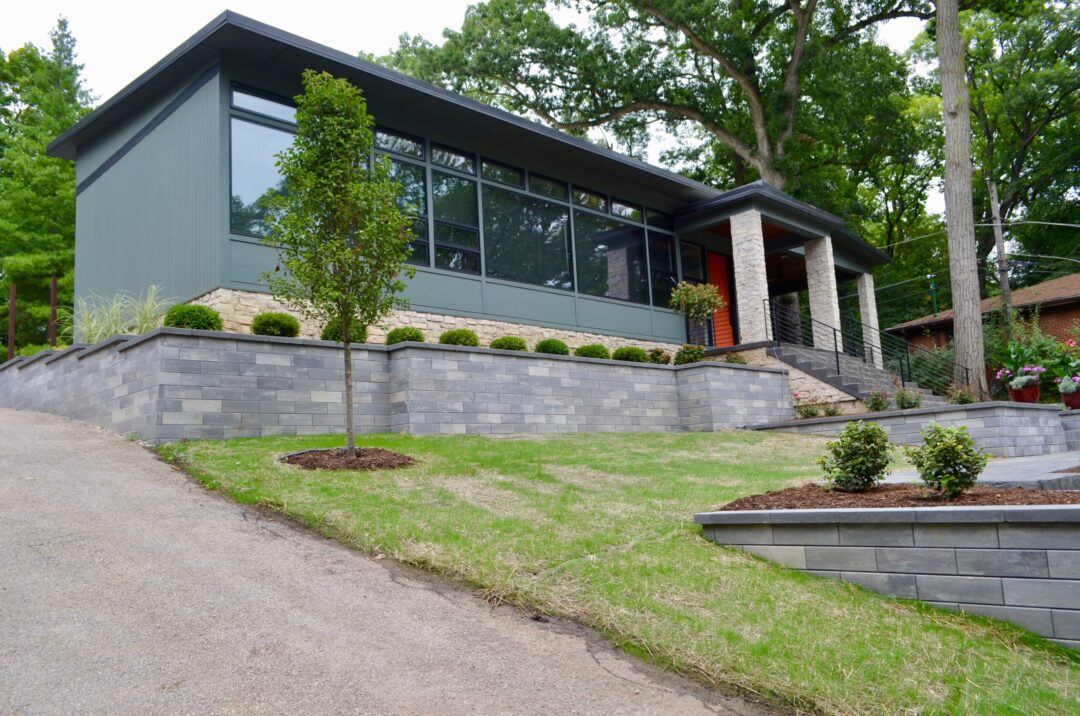 This landscaping project required careful attention to detail and consideration with regard to the site and home under renovation. The home has a flat roof and open floor plan with a mid-century modern architectural style.
Landscaping Challenges
Working with severe grade or topography.
Limited space and heavily wooded site, which posed equipment some challenges.
House was not built to current codes, and the foundation was not frost protected.
Yard was terraced with aging flagstone and cobblestone walls that needed to be replaced.
Necessary to regrade yard which meant hauling out. Took out dirt and debris to regrade.
Landscape design solution that compliments the mid century modern architecture.
Retaining Wall and Landscaping Solution
Consistent customer communication and interaction throughout design process with multiple options presented for design elements.
Use face panels made with EnduraColor concrete finish that would be long lasting and hold vibrant color.
Keep everything modular with face panels in order to carry over the architectural style.
Use simplistic, traditional design criteria.
Incorporate shrubs such as boxwood, hydrangea, and roses as well as ornamental grasses and perennials complimentary to the home's simplified mid-century modern architectural style.
Landscaping Materials Used
UniLock Products: U-CARA Wall System
Locally grown shrubs and perennials
Drainage system
Grass seed rather than sod
To see other examples of recent projects, visit our "before and after" section or contact us at (630) 932-8966 for a free, no-obligation consultation.