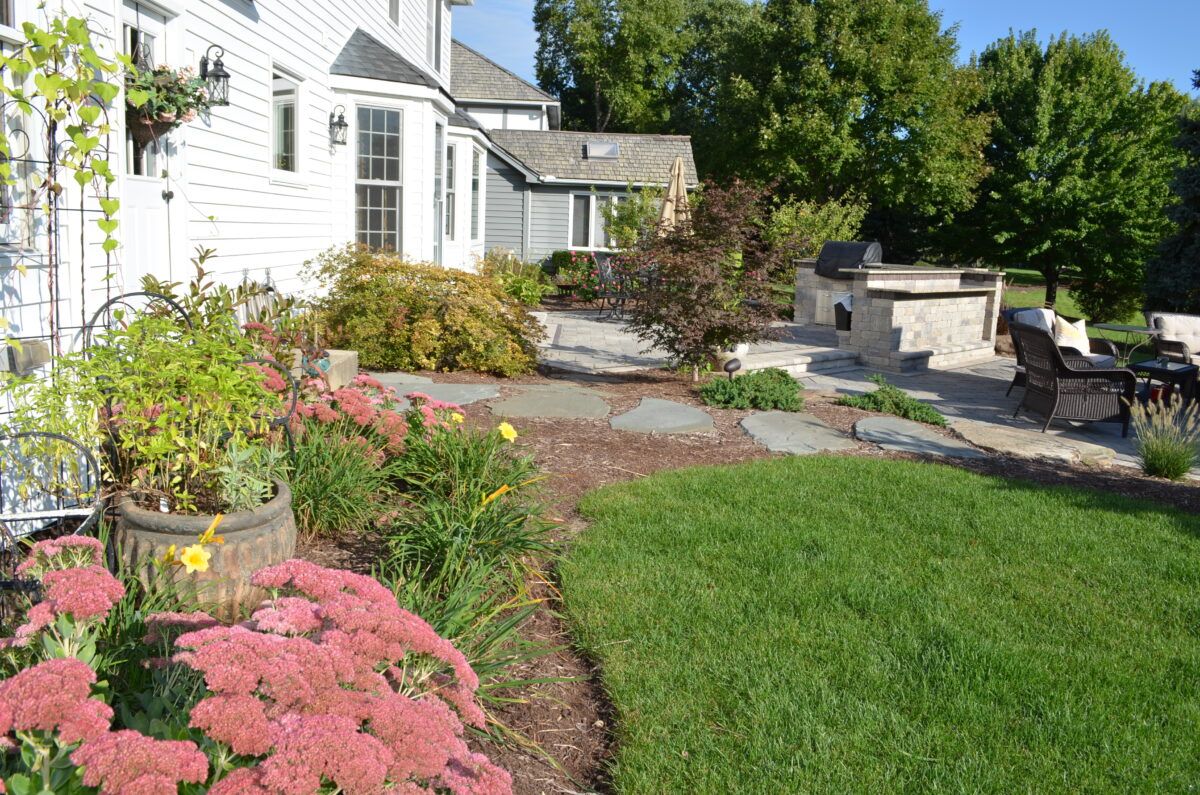 You want a beautiful outdoor living space to enjoy, but you're concerned about the time it will take you to maintain it. We get it. Everyone's lives are busy these days, but don't let that thought deter you from making upgrades to your
backyard landscaping
. By considering these suggestions, you can have a beautiful backyard that doesn't require hours and hours of work.
Choose the right plants. Pick the right plant varieties for your USDA Hardiness Zone. If the plants are too delicate or not suited to your USDA hardiness zone, they won't last and you'll end up frustrated trying to maintain them.
Always test and amend your soil. You can get a soil analysis through a DuPage County extension office (such as the University of Illinois Extension in DuPage County) that will help you determine how to amend your soil.  This will help ensure that the plants you use for your backyard landscaping get all of the proper nutrients.
Purchase healthy plants from a reputable grower. We know that purchasing plants from the right growers, like Hoffie Nursery, can make a big difference. Experienced growers are constantly monitoring the plants to make sure they are disease-free and properly attended to. They can also tell you whether or not a certain plant is a good fit for a low-maintenance backyard landscape.
Consider the growing conditions in different areas of your yard. Take note of areas of full-sun, areas where there is more moisture due to low-lying ground, and areas of both sun and shade when the trees are full of leaves. Either consult with a professional landscaper or plan accordingly so that the plants you select are well suited to these areas.
Refresh your mulch every year. Mulch helps to control weeds and aids in retaining moisture.
Invest in the right landscaping tools and equipment. Ask your landscaping company about pruning, digging, and raking tools that can make your tasks around the yard much easier. Of course, once you buy the right yard tools, you also need to make sure you keep them properly maintained.
Use groundcover or flowerbeds in large areas where large sections of grass aren't needed. Just this simple change can cut back on maintenance associated with mowing, fertilizing, watering, and weeding. Plus, it will add more visual interest to your backyard landscaping.
Incorporate container gardens into your landscaping. Container gardens and potted plants are an easy way to add low-maintenance splashes of color to different areas of your yard. Want a slightly different look? Move them around or switch out the plants to reflect a seasonal theme.
By using these tips, you can spend more time enjoying your backyard landscaping and less time tending to it. For a quote on landscape design or installation, call us at (630) 932-8966.