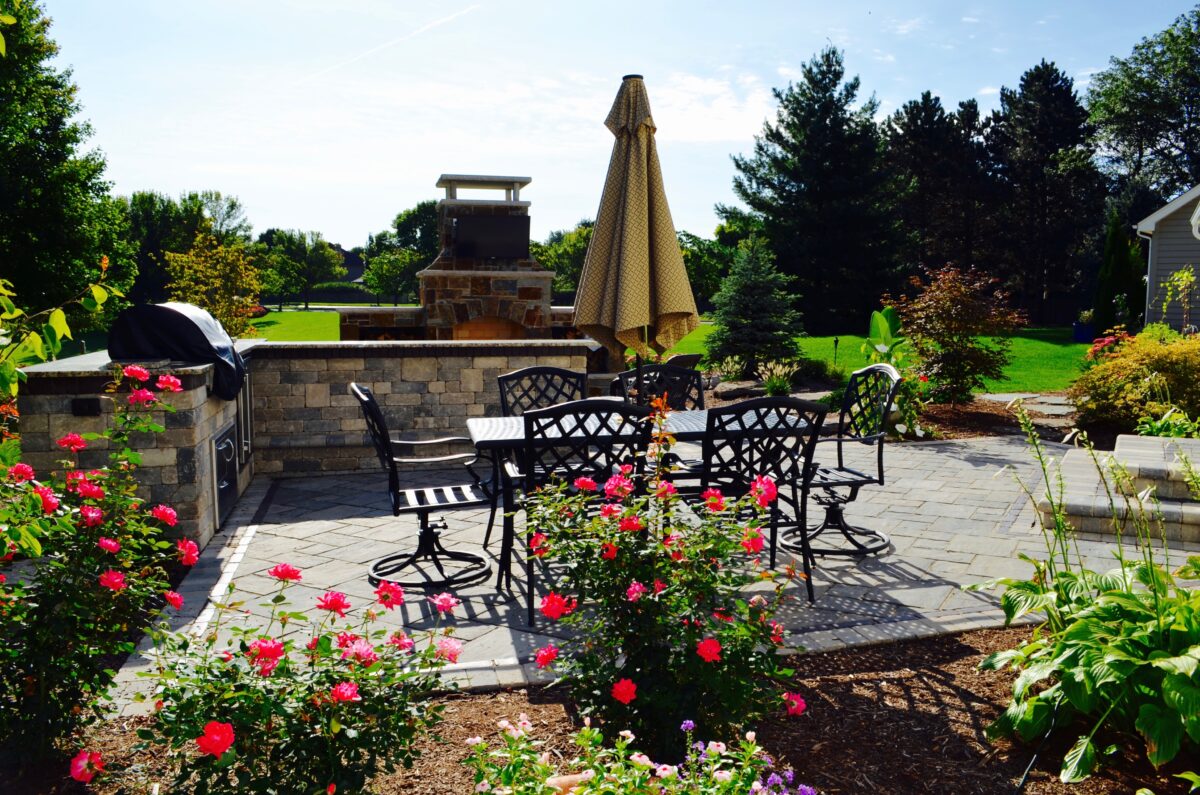 Trying to find a few
new summer patio ideas
that will add both visual appeal and comfort to your outdoor living space? Check out these perfectly palatial suggestions for creating the ideal summer backyard retreat.
Summer Patio Ideas
Make a small patio space cozy with just a few simple touches. Add a couple of cushioned chairs, a small table where you can set your refreshments, and two or three carefully selected potted plants to create a charming new patio space. Want to take it up a notch from there? Just add the table and chairs to a beautiful garden area that includes a water feature — you'll create an oasis that you'll never want to leave.
Follow the patio premise that less is more, with the exception of container plantings. One of our favorite summer patio ideas is to select neutral color schemes and minimal furniture arrangements, but then add a variety of beautiful container plantings to develop serene scenes. Select weatherproof furniture and fabrics; then focus on building your patio garden using easy-care containers.
If you have a large patio space, add some accessories. Boost your patio's appeal by decorating the space with flowerpots and accessories that suit your tastes and design preferences. Consider selecting lanterns or containers that will develop more beauty and unique character as they weather.
Incorporate modern conveniences if you like to entertain. Use wicker furniture dressed up in dashing fabrics to serve as comfortable seats for watching a television mounted to an exterior wall. You can also consider incorporating outdoor LED lighting, stereo speakers, an outdoor kitchen, and a fire pit.
If you want to keep your patio shaded from the summer sun, add a pergola or umbrella. While a pergola will offer a permanent spot where you can seek respite in the shade, you can also use large patio umbrellas to help cut the sun's glare and make your outdoor space more comfortable by adding freestanding or table-inset umbrellas that can be adjusted.
Use something old with something new. Antique garden furniture can bring a touch of sophisticated elegance to summer patios. Look for garden furniture or accessory treasures at estate sales, flea markets, and antique shows. Or, if you have a love of vintage European style, keep your eye out for reproduction pieces that provide modern function with an old-world appearance.
Not quite ready to incorporate these summer patio ideas because you're thinking of renovating or replacing your existing patio first? Contact Landscape Creations in DuPage County at (630) 932-8966 for a no-obligation consultation. We can create and install a patio that will enhance the appearance and value of your home.