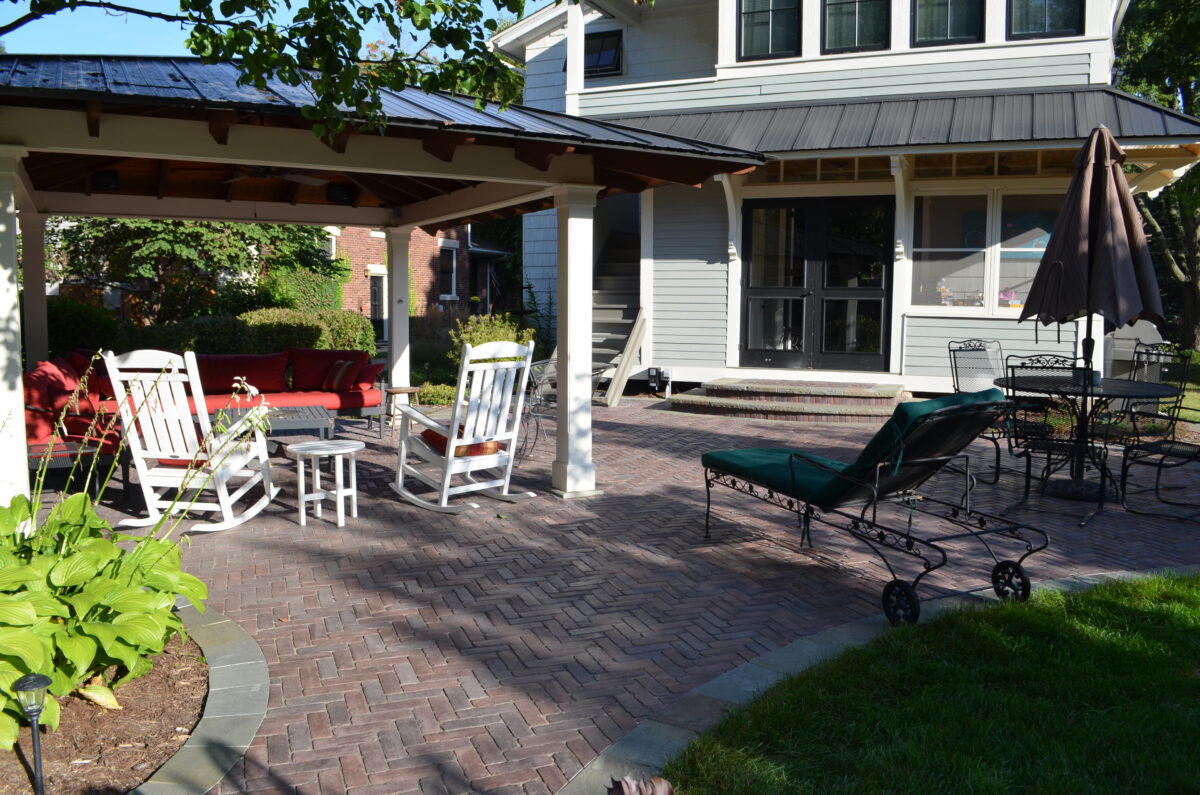 From built-in benches to grilling areas, today's patio features mean more functionality for your outdoor living space. There are a variety of elements that we can incorporate into your new patio design.
Outdoor Patio Features
If you're not familiar with the types of features that can be included in a design to create your ideal outdoor living area, here are some examples:
Retaining walls. Pavers are used to create retaining walls that will enhance your patio design and help highlight the natural flow of your backyard landscape.
Steps. Due to the durability and striking appearance of brick pavers, they can be used in the construction of landscaping steps. Ask your landscape designer about available color options and variations.
Fireplaces. Fireplaces create a warm central gathering area within your patio space. Unilock offers prefabricated fireplaces in a number of styles, from "Old World" to modern, that will accent the look and feel of your outdoor living area.
Planters. Custom planters can be designed and constructed out of brick or stone to maximize space while adding colorful flowers or fragrant herbs that will enhance your outdoor living area.
Pergolas. A pergola can be expertly designed as a focal point for your outdoor living space or patio area. Add climbing plants to your pergola, such as hydrangea, clematis, climbing roses or grape vines, and your pergola will serve as a shady respite during the sunny summer months.
Outdoor Grilling Areas. If you love to entertain and cook outdoors, think about adding a grilling area to your patio. Landscape Creations can design a grilling space or outdoor kitchen that is both visually appealing and functional.
Water Features. The soothing sound of trickling water, much like a mountain stream or babbling brook, brings an element of relaxation and serenity to your patio. Fountains, ponds, or waterfalls are different types of water features that are often incorporated into patio and backyard landscaping designs.
Walkways. Paved walkways can lead guests to your backyard patio or guide them from one section of your patio to another.
Benches or Seat Walls. Built-in benches or seat walls provide additional seating options for your guests while adding an elegant touch to your patio area.
Multi-levels. A multi-level patio with retaining walls allows you to have various green spaces and seating areas. These designs create a beautiful flow from one level to the next.
Take the Next Step
If you live in DuPage County, it's easy to take next step toward a beautiful new patio or outdoor living space. Call Landscape Creations at 630-932-8966 or fill out our online contact form to set up a complimentary consultation.