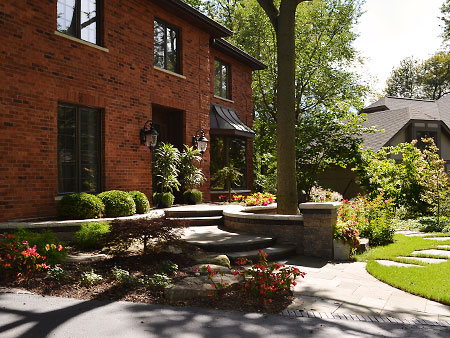 This Naperville landscaping project posed many challenges, including a small front work area and a driveway which was used daily for staging (which was also cleaned daily).
The goal was to replace a front rotten wood deck with a Bluestone Paved Walkway. Several considerations were met to achieve this level of detail and perfection. The yard is wooded with several mature Hackberry trees which must be preserved and a severely sloped yard which drops eight feet in elevation to the street.
A combination of planters and a multi-level walkway eliminated the need for railings at the walkway. A graceful 'S' shaped Seatwall terminated as a pillar established the flow of the walkway and avoided a Hackberry tree.
The sloped yard has several retaining walls which were naturalized with tons of Mossy Outcroppings. The combination of formal retaining walls and stone terracing worked very well in this application. Plantings, Stone Pathways, and our signature 'Stone Bench', along with low voltage lighting, complete this landscape project into a true "Landscape Creation"!