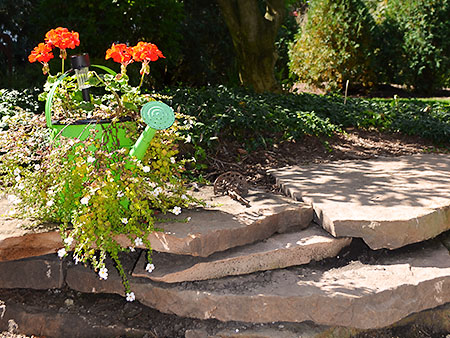 This Glen Ellyn landscaping project came full circle. Fifteen plus years ago, we originally installed this patio and landscaping. At the time, it had the 'wow' factor and served the client and their needs well.
Through the years, they wanted to increase their level of ability to entertain and for enjoying personal relaxation. They also needed the resources to host a large public event.
We forward to spring 2014. They asked for a major re-work to include a larger patio, pergola, fire pit, built-in barbecue, and area for a hot tub. This is a perfect example of how outdoor entertaining and personal needs have evolved.
We provided several design concepts to suit their requirements and after review, the plan was finalized and put into action.
This was a time-sensitive project that needed to be completed by a specific late spring date for a large fundraising event, 'Grandpa's Gift Golf Outing'. The event was to benefit The Osteogenesis Imperfecta Foundation (inspired by their granddaughter). The client was under pressure by time constraints, arrival of out of town guests, and the overall construction process.  With a late-ending winter and soggy spring, we were also challenged by the deadline.
Through impeccable teamwork and coordination with our crew, the project was completed on time prior to the event with spectacular results. This project was not only completed on time, but we ensured that our work area was cleaned on a daily basis and finished to a complete power-washed excellence!
The most powerful and rewarding compliment we can receive is the return of a former client with complete trust and confidence that we can meet any landscaping challenge head-on. We are grateful for their belief in us!