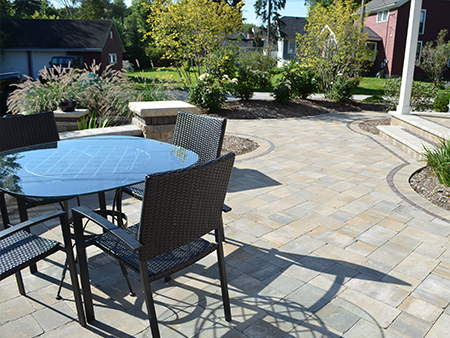 This landscaping project was two years in the making for a couple in which one of the owners actually had grown up and lived in this beautiful Geneva, Illinois residence. The property went through a addition, remodel, and landscape renovation.
Our work was started in the spring of 2015. The owners, Larry & Susan, had full trust in our ideas and visions, giving us full creative license. The enthusiasm between Larry, Susan and our crew was great! Everyone was fully engaged and had fun putting everything together.
This corner lot property has a fair amount of slope which enabled us to 'layer' the landscaping. We used Unilock Brussels Premier Pavers for the walks, stoops, and patios. The walls were constructed of Unilock Estate Wall System. Throughout the landscape, the use of landscape stone was used as accents, steps, pathways, and a stunning water feature. Landscape Creations is an Authorized Unilock Contractor.
The plantings included several ornamental tree selections, many shrubs, grasses, and perennials to give this landscape ongoing seasonal interest.