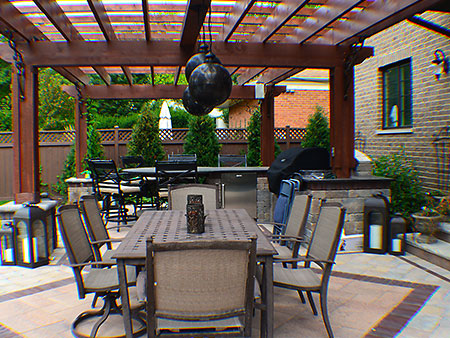 This Elmhurst backyard landscaping transformation included a multi-level patio with pool deck and built-in entertainment island. The island includes a gas barbecue and refrigerator, stepping down to the 'lower patio – pool deck' fire pit and plantings.
We were able to meet the challenge of fitting the customer's items into a tight area, while still maintaining good flow and keeping within various building department requirements (such as set-back and drainage).
After several revisions, we had addressed all of the desired aspects. During the design process, the client mentioned the use of ornamental steel as a design element which was incorporated into the pergola corbel braces, and also as a support for the 6' diameter granite table top.
The Elmhurst landscaping project turned out fabulous! The customer added their own unique dining and patio furniture accents along with an outdoor television and speaker units at the pergola, creating a true family outdoor entertainment oasis.
We are particularly proud of the style and workmanship that went into this project.